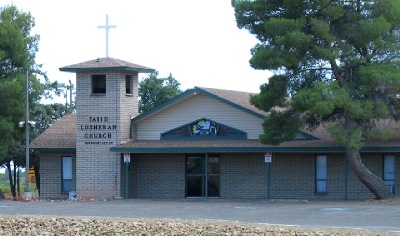 Faith Lutheran Church and Hilltop Christian Preschool

P.O. Box 3732
2021 E. Fir St.
Cottonwood, AZ 86326

(928) 634-7876 (Church Office)
(928) 634-7759 (Hilltop Christian Preschool)

e-mail:cottonwoodlutheran@netzero.com


Click Here for directions to the church

Visit us on Facebook at Faith Lutheran Church of the Verde Valley.



Important Notice


Current Sunday Morning Worship Schedule:

8:00am Worship Service

9:30am Bible Study & Fellowship

11:00am Worship Service

Current COVID Protocol

YOUR HEALTH AND SAFETY MATTERS

OUR PROTOCOL HAS NOT CHANGED

At this time Faith Lutheran will continue our regularly scheduled worship services. This decision was carefully considered with the upmost concern for everyone's well-being of both body and soul. This decision is in compliance with all State and local ordinances. Numerous precautions have been taken to comply with public health officials' recommendations with regard to social distancing and sanitizing practices. Our previous measures have already been publicized and as of today we are adding these further measures:


Strict enforcement of 6' minimum distance to include:

Wearing of masks is strongly encouraged
Every other pew will be unavailable for seating
Even fewer people at the communion rail at one time

If you have any of the following symptoms we cannot allow you to worship on the premises in order to safeguard the health of those present:

Sore throat
New cough
Temperature over 100.0 degrees F


If you are not able join us here, we invite you to check our website for our weekly worship videos.

"And behold, I am with you always, to the end of the age."
(Jesus) – Matthew 28:20b

God's peace, Pastor Karl Schloeman




Worship Service Videos
Please download the bulletin
for the Bible readings and liturgy. We pray that you
will be encouraged and edified by God's word.




December 6th Sunday Sermon Video Link Below:

https://youtu.be/ZM9s2eHdmHk



November 22nd Sunday Sermon Video Link Below:

https://youtu.be/VrUcV4imrQI



Newsletters And Calendars