Faith Lutheran Church and Hilltop Christian Preschool

P.O. Box 3732
2021 E. Fir St.
Cottonwood, AZ 86326

(928) 634-7876 (Church Office)
(928) 634-7759 (Hilltop Christian Preschool)

e-mail:cottonwoodlutheran@netzero.com

Building On Faith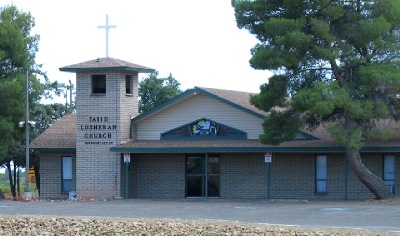 God has proven Himself faithful, reliable, trustworthy, and true. At Faith Lutheran Church, we want to show people that there is something to believe in. We welcome you to grow in Christian faith by sharing in the ministry of Faith Lutheran Church.

The Bible was inspired by the same God who raised Jesus on Easter morning. Therefore we aim to make the Bible the sole source for all our teachings. We trust that it is God's Word and is worthy of our trust. The Bible shows us that we can rely on His Word, as well as His gifts in Holy Baptism and Holy Communion to increase our faith. As we listen, read, study, and preach the Bible, God produces and increases Christian faith within us.

Everyone has Faith in something. What we look to and place our hope in for meaning and security in life. For many, those things are family, friends, wealth, health, etc. These are all good and wonderful gifts, but will inevitably fail us. Here at Faith Lutheran Church we believe that God is trustworthy and true. We trust that God is faithful because He kept His promise to send His Son to be our perfect Savior. Faithful to His Word, our heavenly Father gave Jesus over to the cross, to take our place, and take away the eternal consequences of our sin. Once more, God proved He is faithful by raising His Son Jesus out of death and into life on Easter morning. Jesus' resurrection confirms that He is God's Son and that His work on the cross completed our salvation.


Click Here for directions to the church

Visit us on Facebook at Faith Lutheran Church of the Verde Valley.